Used Copiers Specials Phoenix AZ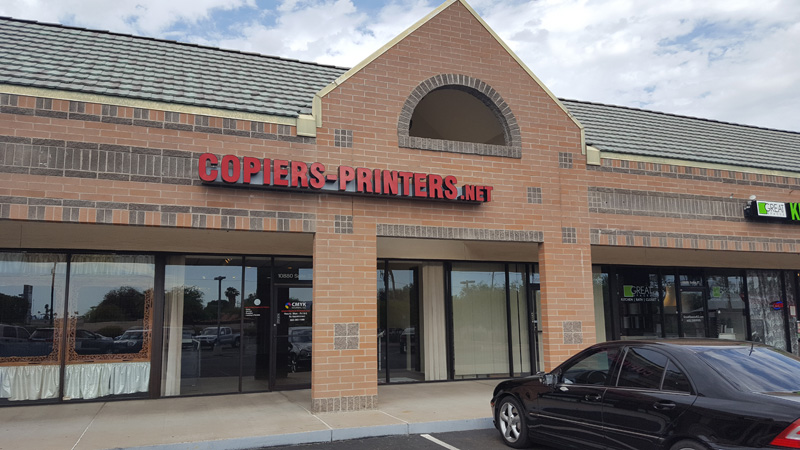 ---
Visit Our New Showroom – Come See Our Copier Selection (Save 50% to 75% Today!!!)
10880 North 32nd Street #33, Phoenix, AZ 85028
Hours 9-5 Mon – Fri by Appointment Only – (480)247-3010
---
Canon imageRUNNER ADVANCE C5035

Color Copier
Copy/Print/Scan/Fax
35 pages/minute
4 paper drawers
Read Brochure

$2,995.00

or lease for
for $66/mo.

Canon imageRUNNER ADVANCE C5051

Color Copier
Copy/Print/Scan/Fax
51 pages/minute4 paper drawers
Read Brochure

$3,395.00

or lease for
for $74/mo.

Konica Minolta bizhub C360

Color Copier
Copy/Print/Scan/Fax
36 pages/minute
4 paper drawers
Read Brochure

$2,995.00

or lease for
for $66/mo.

Konica Minolta bizhub C452

Color Copier
Copy/Print/Scan/Fax
45 pages/minute
4 paper drawers
Read Brochure

$3,295.00

or lease for
for $72/mo.
We sell current and recent models that are sold at discounts of up to 75% off MSRP. While our copy machines come from short term rentals, off lease contracts, sales demos and corporate down sizing, we still put each of our certified preowned used copiers through our thorough refurbishing process to make sure that every wearable part has been inspected or replaced.
All of our copy machines are ready for delivery within 3-5 business days while some are refurbished ahead of time and are ready for immediate delivery as soon as – tomorrow! Once your copier is delivered to your office, we will assist you in getting your staff trained.
All of our preowned certified used copiers come with a "same as new" 90 day complete parts and labor warranty. This warranty is onsite and is everything is covered except your copy paper. Purchasing a preowned certified used copier from PrintScan Solutions is a smart business decision. It will provide your office the productivity it requires for many years but won't come with the elevated costs of a brand new copy machine. Beginning with your first contact with us, you can count on a wonderful copier experience. We will help you select the right copier that meets your business and budget demands. You will receive a current top brand copier at a great price, with free delivery, set up & training
Used Copiers Specials AZ
Here at PrintScan Solutions, we have some of the best deals on copier rentals, leases, equipment sales and toner in the Greater Phoenix area. From time to time, we put up new copier specials, so you want to be sure to come back and check our page frequently for the latest specials and offers. What's more, we have over 100 copiers to choose from, and sell both the current and recent models at mind blowing discounts of up to 75% off the manufacturer's suggested retail price.
As a business owner, you want to save cash wherever possible. That frees up your capital so that you can invest in other important areas like inventory, advertising and other business investments. Many of the copiers that you find from us have come from corporate downsizing, short-term rentals and off lease contracts, and when we look over a used copier, we test it via a rigorous refurbishing process to ensure that everything has either been inspected, or what is not good has been replaced.
With all of the multifunctional photocopiers that you find at PrintScan Solutions, after you have received a great discount from our specials, you will have the copier delivered within three to five days. Every once in a while, we have a copier ready for immediate delivery that is available as soon as the next business day.
Looking for a color copier for printing marketing materials? Statistics have shown that printing in color improves customer response by 75%. Color improves brand recall, increases response and brings more attention to your products. As you're aware, however, a printer that makes color copies can exceed the budget fast. If you purchase a used color copier from our specials page, many times the price will be up to 10 times lower than what you'd pay for retail price. Not only do you receive a great deal, all our used copiers have a 90-day warranty on the parts and labor. We will cover everything under warranty on-site, except the paper you use for copies.
From the moment you contact us, you can bet that we will seek out a printer that meets both your business needs and budget. We will align your office technology so that you have increased productivity, higher customer response and a better work environment. Also, we don't charge for delivery, so you are saving money through our specials and on shipping.