Service & Supply Agreements
PrintScan Solutions offers Copier and Printer Service & Supply Agreements on most makes & models.
Contact Us for a Free Quote Today!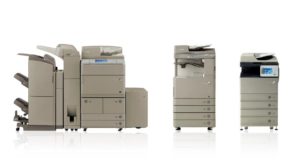 A copier printer service and supply agreement can save you a lot of extra money on your next copier printer purchase or lease. Getting this agreement means that if you encounter copier problems later down the road, the servicing will be covered under the agreement. You don't have to pay anything extra for the servicing of your office copier, which can save you an average of around $99.00 an hour plus parts and toner.
The key benefit of a service and supply agreement is how it makes your expenses more predictable. Let's say that you just bought a new copy machine from PrintScan Solutions, and you started having issues with the internal components making this unpleasant grinding noise and producing sub-par imaging. If you don't have a service and supply agreement, that means that you will have to pay the technician out of pocket any time that you experience problems with the copier. Where the problem comes in at is that you never know when your copier will have issues. It could happen three times in a week, and because you are not under a service agreement, all of the expense comes out of your pocket. Now imagine trying to make essential business investments reliably. That can be a lot more tricky when you don't have a service and supply agreement.
Aside from covering the service, you will also have your supplies covered, provided that you don't go over a pre-agreed number of supplies in a month. Many business owners choose this option because it integrates their payments into a single monthly payment plan. In other words, you don't pay $120 a month for a copier lease and another $80 for toner. It lets you track your expenses much easier than if you have to pay for everything separately. Plus, you don't have to write multiple checks.
Whenever you buy a service and supply agreement, always be aware of what it includes. For further information on service and supply agreements, contact PrintScan Solutions of Phoenix, Arizona at (480)247-3010.We offer both fast and dependable copier printer repair in the Greater Phoenix area.